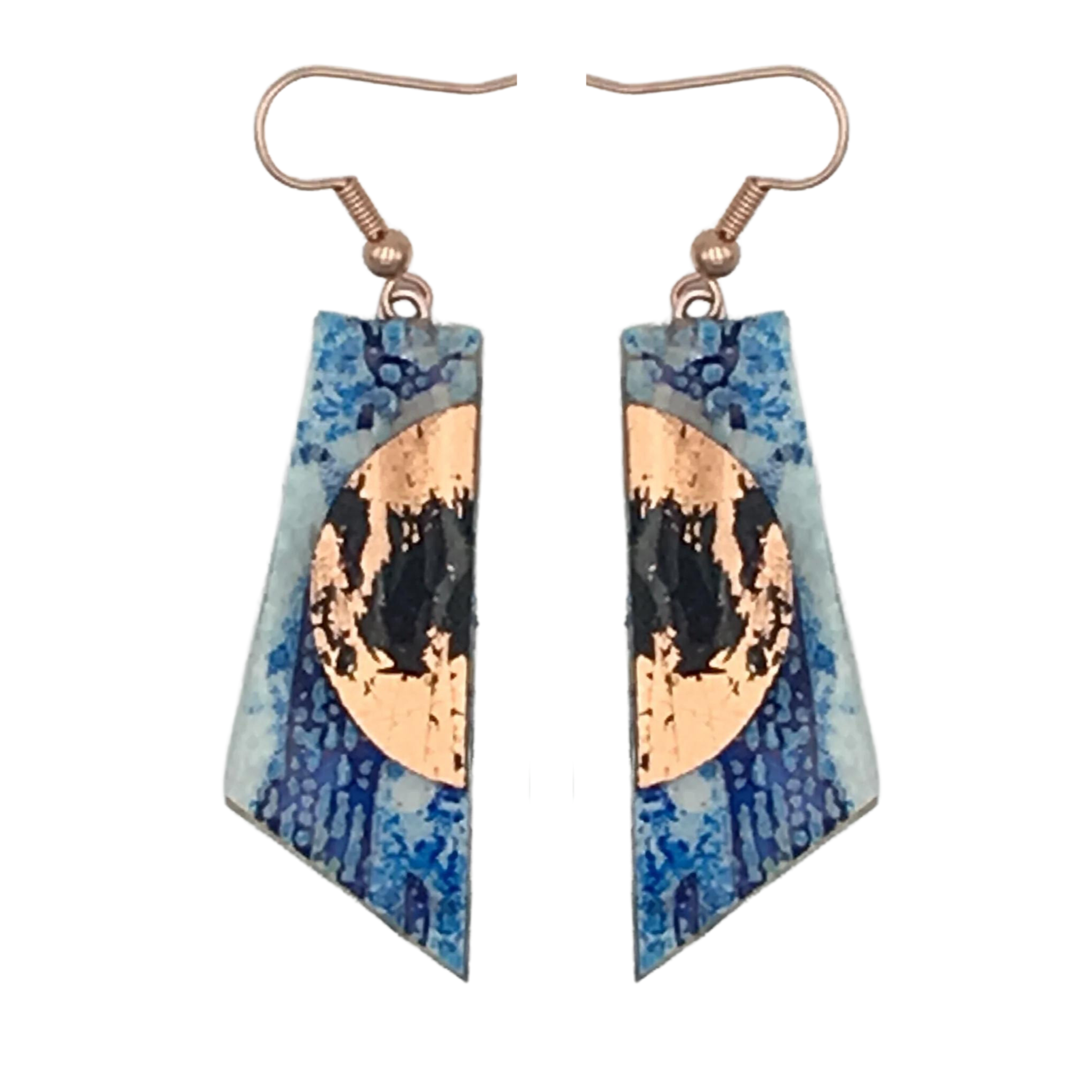 Blue textured textile earrings with black/rose-gold half-disc detail. They are finished with a high gloss sheen and measure 4cm in length.
The earring wires are hypo-allergenic.
All Rothlu earrings are as detailed on the back as on the front, so they look wonderful from every angle.
As these earrings are one-of-a-kind, each pair in this style has its own unique texture and brushstrokes, clearly showing the maker's hand.
Handmade in the Ox Mountains, Co. Mayo by Rothlu Jewellery.
Dimensions
---
---
Pay with Klarna
Spread the cost of your purchase by paying for your jewellery in instalments, with Klarna. Learn More
Size Guide
Measuring your Ring Size with an existing ring
1. Select an existing ring in your collection that fits the desired finger.
2. Measure the internal diameter of the ring (in mm).
3. Use the chart here to determine your ring size.
Measuring your Ring Size using your finger
1. Wrap a strip of paper around your finger where you'd like your ring to be.
2. Make sure that the paper is pulled snug to your finger, the tighter the better, to find your best fit.
3. Mark the spot where the paper meets and measure the distance with a ruler (mm).
4. Use the char here to determine your ring size.
Measure your Bracelet Size using a tape measure
1. To find the most suitable size for your wrist, wrap a tape measure around the wrist on which you plan to wear your bracelet.
2. Round your measurement to the nearest centimeter before checking the internal diameter of the bangle or cuff in the product description to determine the fit of the bracelet on your wrist.
Choosing the right Necklace Size
Chokers: The shortest necklace style measuring between 380mm - 420mm (15"-16.5"). These necklaces can be beautiful on their own or as layer-able pieces.

Short: A truly classic length measuring 450mm-500mm (17"-19.5") these necklaces work with almost every outfit.
Mid: Make excellent pendants and can be paired with short necklaces or chokers for a beautiful layered look. These necklaces typically measure between 500mm-550mm (19.6"-21.6")
Long: The best choice for a dramatic statement or to wear with a plunging neckline these pieces can measure 560mm (22") or even longer.
Shipping
Find the countries we ship to below, along with estimated shipping times and costs:
Ireland and Northern Ireland: €7.50 tracked delivery via DPD 1-2 business days
UK: €15 tracked delivery via DPD 2 business days.
Europe: Tracked DPD delivery (3-6 business days) ranges between €20 and €35 depending on destination country. See exact shipping fees and delivery times at checkout.
USA and Canada*: USA €25, Canada €20 tracked delivery via DPD 4-5 business days
Australia and New Zealand*: Australia €20, New Zealand €25 tracked delivery via DPD 6-7 business days
*PLEASE NOTE THAT SOME COUNTRIES MAY HAVE ADDITIONAL IMPORT DUTIES AND TAXES WHICH YOU ARE LIABLE FOR.
For more information visit our Shipping & Returns page.
Refunds and Returns
At McCarthy's we always strive for you to be completely satisfied with your pruchase. However, if for any reason you are not entirely happy with your purchase, you can return any product in its original condition for a full refund within 14 calendar days from the date of delivery.
If the products you receive are damaged or faulty in any way, or not what you originally ordered, we will be happy to exchange the products or offer you a full refund. Please contact us at hello@mccarthysjewellery.com and we will work to resolve the issue as quickly as possible.
"We hand-pick each and every piece to provide our customers with beautiful jewellery at great prices"